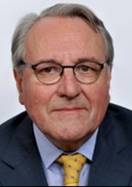 Jean-Marie Fabre
Chairman and CEO
Jean-Marie Fabre is active in Private Equity since 1993. He was one of the founding partners of PAI (ex-Paribas Affaires Industrielles) where he was a Senior Partner and Member of the Investment Committee from 1993 to 2006. In 2007, he created Parvilla, a management company dedicated to FoF and co- investment in the European lower mid-market buy-out.
Since September 2019, Jean-Marie Fabre is fully dedicated to Parvilla Investissements.
Jean-Marie Fabre started his career in the French Ministry of Finance (Budget Department – Head of staff of the Ministry of Budget). He graduated from HEC and ENA.